In our changing world, we need to quickly analyze and assess the situation, make forecasts and plan, and then act. Now we are moving away from the template action in project management, even our own development does not keep up with many stereotypes that have been delving into our lives for many years. In this direction, I am impressed by the concept of Shu Ha Ri. This is an ideal metaphor for the development of Agile teams.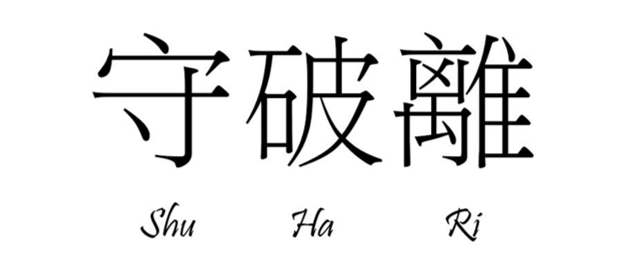 The concept of Shu-Ha-Ri (Shu-Ha-Ri) came to us from the Japanese martial art of Aikido.

Means the following:

Xu (yap. 守 xu, from yap. 守 — "observe") is the first step, meaning that you need to memorize everything exactly as the teacher shows. It takes many years to train, otherwise there will be no basis for the transition to the next stage.Ha (yap. 破 ha, from yap. 破 — "break through") is the second stage at which the student considers his actions, changes the rules, tries to break them, builds a new system of his own rules. He also learns new techniques from other teachers. Many people try to do this too early because they overestimate their capabilities.

Ri (yap. 離 ri, from yap. 離 — "to separate") is the third stage, according to which you need to get rid of the rules — there are no rules anymore, there is only the natural course of things (Tao). "Ri" means to rise above everything that has been studied before, to create higher and more general principles.

Let's analyze a practical case when we provide technical supervision of construction for an object in the industrial sector:

Xiu - We strictly follow the rules of the Quality Management Plan. We see that all project management procedures have been implemented and all rules are observed. For example, quality control takes place strictly according to the NFI (Notice For Inspection) procedure and according to the request of the construction contractor.


Ha - Now that everyone is familiar with the basic rules, we can start improving and amending them. To improve the quality of work, we look at the statistics of the issued Acts of Non-Compliance with quality control, and we understand that the number of Acts of Non-Compliance with the quality of construction and installation works is growing. We understand that it is necessary to improve the quality control procedure of the CMP, and therefore additionally conduct independent quality inspections prior to the release of the NFI by the contractor construction company.

Ri - We moved away from the "non-standard" structure and mechanisms and began to set the rules ourselves. Breaking the rules, we propose improvements to the QMS of a construction contractor and digitalize all actions.

For the ASRM team, the Xiu Ha Ri concept provides the tools of thinking, continuous improvement and the desire and opportunities for improvement. When you're learning something for the first time, a variety of ideas is usually not the most useful place to start. You need to have the concentration of the best option. Once you've mastered the basics, move on to experimenting and trying to integrate new thoughts or ideas. Your experiments will lead you to new paths, and eventually you will go beyond specific practices and develop your own way of project management, be it waterfall, agile or scrum and hybrid.

Saniya Ayambekova
Director
Advanced Controls & Project Management